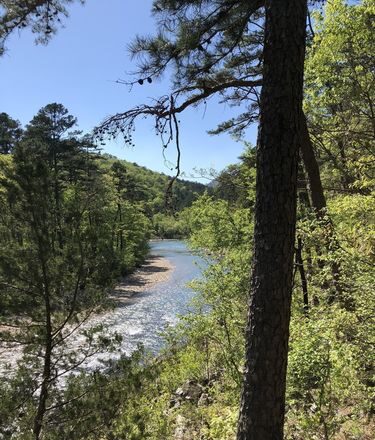 Adventure Trails & Retreat   is located near Mena, Arkansas in Shady, in the middle of the Caney Creek Wildlife Management Area (85,000 acres). It borders Caney Creek Wilderness Area (14,460 acres of non motorized access) and Ouachita National Forest (1.8 million acres). The Cossatot river is located ¼ mile away.
The retreat offers many recreational activities including ATV riding, horseback riding, mountain biking, canoeing and kayaking, as well as hunting and fishing.
You can ride your ATV directly to the Wolf Pen Gap ATV trailhead just 2.5 miles away to take in the 41 miles of dedicated scenic trails.
We are horse/mule friendly, and offer a pasture to keep your horses in during your stay. We are just 3 miles away from the Caney Creek Wilderness Trail, and nearby Buckeye Trail and an endless choice of other trails in the surrounding Ouachita National Forest. While you CAN ride to the trail, we recommend trailering your horse so you can enjoy more trail riding.
Hunting opportunities for deer, turkey, bear, squirrel and more are available in the surrounding Ouachita National Forest. Fishing is available on nearby lakes and creeks. The Cossatot River is perfect for your canoe or kayak adventure! There are great mountain biking trails and rock climbing spots nearby.
Relax in Our Well Appointed Cabins!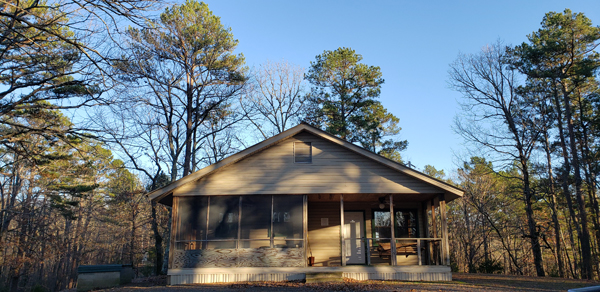 Our 2 Bedroom Cabin
Our two bedroom cabin has a modern kitchen, washer/dryer, king size bed, and queen size bed, a covered and screened front porch, TV, free Wifi and DVD/VHS player, AC/Heat and all linens included. Nearby is a covered outdoor pavilion for cookouts. Great for families or two couples. Very secluded! Click for more information.
The Bunkhouse
Perfect for larger groups, the bunkhouse has a studio apartment with a queen size bed and sofa bed, with 16 additional bunk beds available. A fully equipped kitchen and full size refrigerator, full bathroom with two showers, washer/dryer, A/C and heat, and a very large attached outside pavilion with picnic tables, cooking grills and fire rings are included. Also available is an RV spot with electric, water and sewage hookups.
Call 1-479-385-0277 For Information & Reservations
Local Information
Just a short drive to Mena, Arkansas, with retail and antique shopping, restaurants, the Mena Art Gallery, the Ouachita Little Theatre and other unique places to explore. Visit during one of our many planned events! For more information go to VisitMena.com.
Trails Close to Our Cabins
Viles Branch Equestrian Trail
Big Fork Equestrian Trail
Little Missouri Equestrian Trail
Caney Creek Wilderness Trail
Buckeye Trail
Athens Trail
Tall Peak Trail
Wolf Pen Gap ATV Trail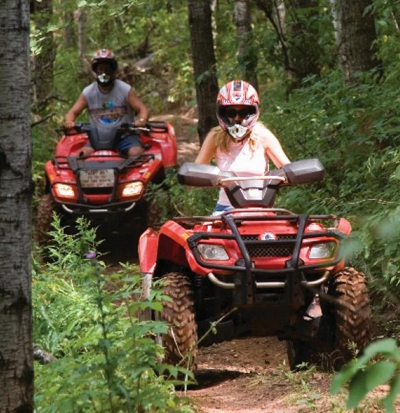 Nearby Attractions
Little Missouri Falls
Shady Lake
Queen Wilhelmina State Park
Cossatot River
Talimena Scenic Drive
Boardcamp Crystal Mine
Blue Line Zip Line & Farm
Mena Kansas City Depot